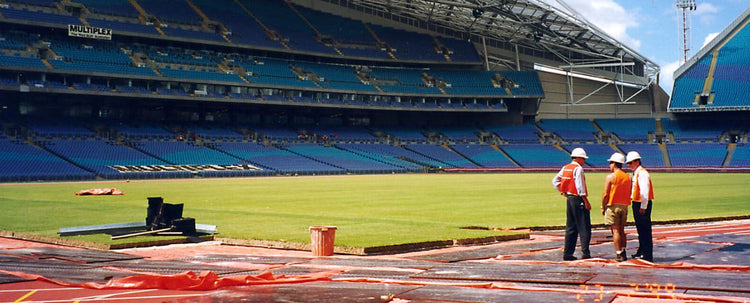 Nood Co.
Concrete Made Sustainably
Production
Locally sourced, the land of fine sand.
Sustainable practices are paramount at Nood Co,  from prototyping through to delivery, each step in the manufacture process has been modified with a sustainable view.
85% of Nood Co's concrete composition and packaging material is sourced from within Australia, including the finest sand grades and natural admixes, right through to recycled packaging.
Zero VOC
All Nood Co products are manufactured with a zero VOC concrete composition, zero VOC colouring system and sealed in a food-safe, UV stable, extremely low VOC sealer. The final product is waxed in a pure natural beeswax polish, ensuring a 100% non-toxic, safe interaction for the end user.
Embodied Energy
Nood Co has created a unique blend of UHP concrete that uses around 96% less energy than that to create its ceramic equal. A ground breaking statistic.
Nood Co basin manufacture involves the use of multiple silicon molds and a handmade process. Machinery-aided manufacture has been avoided to ensure an extremely low embodied energy and pollution emission rate, whilst not compromising on efficiency and production output.
Emissions
Nood Co products are manufactured and assembled in Australia and hence affect much lower rates of transport emission.
Eliminating Waste
Nood Co consumes only the supplies and resources required to manufacture the end product. Nood's unique manufacture system creates a 97% affirmed product pass-through rate, ensuring a less than 3% waste rate.
Combustion Data
Nood Co Silica Sand
Flammability: None
Hazards from combustion products: Not flammable or combustible
Suitable extinguishing media
Special protective precautions and equipment for firefighters: None
Hazchem code: None allocated
Nood Co Cement
Non-combustible
Nood Co Sealer
Heat resistance: Up to 500F (260C)
Food-safe and non-toxic: Complies with FDA Guidelines
Non-combustible
Nood Co Tint
Non-combustible, zero VOC
Nood Co Benefits
Increased MPA to ensure strong pieces
View our 24 month structural warranty 
here
.
A solid colouring system
Nood concrete is pigmented with 100% chemical free colour, so the basins are 100% coloured throughout. 
Packaging
How do we get these pieces safely sent all over the world ? We developed our own recycled packaging and air bubble system to ensure safe, manageable and best of all affordable delivery.
Colour consistency and volume
Nood has developed a manufacture process that ensures a volume order will have an unbeatable consistency in colour and patina, removing the issue of concrete and its random nature. So what you sell to your client, is what appears at their doorstep.
Removing wastage
Nood is proud to deliver a 97% pass through rate on its concrete - massively reducing waste.
Sustainability
Nood concrete has zero chemicals, Nood tint has zero chemicals. Nood basins are waxed in 100% organic wax. Healthy, happy concrete. Nood basins, interestingly, take 96% less embodied energy to make than their ceramic equal. 
Design
By improving the strength, we were able to design the worlds first contemporary basin and furniture range. A unique range that gives scope for a whole new way to explore bathroom design. 
Sealing
Our basins are unique in they have several admixes that give the basins an incredible water tolerance. Nood basins are sealed with a unique penetrative sealer that ensures they will not delaminate in time, and never need resealing. Real world function. 
Weight
Nood basins weigh between 10kg / 20 pounds and 17kg / 34 pounds. Manageable from factory to installation.
Installation and Maintenance
Simple, simple simple. Nood have videos on this entire process. It is as easy as a ceramic basin.
Handmade
We have created a manufacture process that is systemised but still allowed a handmade process, to ensure results are beautiful every time. A human touch is everything with Nood.