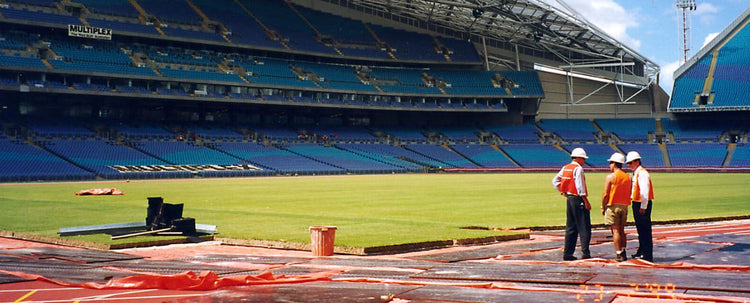 Concrete Technical Information & Guides
Concrete Basin Installation, Care & Warranty Guides
Installation
Nood Co. Basin Installation Tips
Nood Co. Basin Plumbers Installation Guide
Care and Cleaning Instructions
Do: Clean up spills immediately. Substances like wine, coffee, bleach, curry paste, coffee scrub , chemicals, makeup and toothpaste have been tested on the sealer with positive results, but Nood does not warrant staining caused by such substances.
Do: Clean surfaces using a sponge or soft micro fibre cloth with each use. Using soap with cool water is recommended. Avoid chemical cleaners.
Do: Avoid scratching the surface. It is important to wash your surfaces with a soft microfibre cloth and soapy water. Avoid rough fabrics or scourers and cleaning devices.
Do: Use protective placemats and trivets for soaps, cups, plates, bowls, hot dishes, glasses etc.
Sink Waxing and Maintenance
Do Not: Use generic chemical based cleaning products such as bleach, glass cleaners or degreasers.
Do Not: Use vinegar, ammonia, lemon or orange as cleaners. Avoid any corrosive / acidic agents such as acidic products, strong detergents, corrosive liquids or scouring powders.
Do Not: Use bathroom, tub and tile or grout cleaners, or scourers and rough cleaning pads, rags or sponges.
Do Not: Sit or stand on your concrete surfaces. Excessive force applied to the concrete products will weaken or even break the product. They are not designed for such use. Concrete is hard wearing but not flexible, and therefore excessive weight in any one area could result in cracking.
Do Not: Apply excessive heat directly to the concrete. Natural, man-made heat or sun may cause fading and alter the shine of the surface over time.
Do Not: Drag, brush or scratch at the surface. Once the sealer is damaged, moisture may seep beneath and create further damage. Nood Co's warranty does not cover replacements in this circumstance.
Do Not: Leave hot oil on your concrete. It will leave deep stain marks that may be removed with bi-carb soda and water if applied within the first hour or so.
Do Not: Stack anything on the concrete , including stools/chairs or other tables. If you must, please cover surface with a cloth first. This will help avoid unnecessary scratching.
Do Not: Use coffee scrubs, or tints in the basin.
Nood Co. Wax Application
Definition of a 24 Month Structural Warranty
Nood warrant for the period of 24 months, from the date the product is released by Nood Co Concrete from the Nood Co Concrete Manufacture Warehouse or storage facility, the structural integrity of the concrete basin to not crack, hair line crack, disintegrate, for reasons of defects in materials or workmanship, and in accordance with Australian Consumer Law (ACL) Subject always to any overriding obligation pursuant to the ACL, the warranty shall be void for the following reasons:
a) Goods that have not been maintained in accordance with instructions or that have been accidentally damaged;
b) Defects attributable in any way to installation, modification, cleaning, or repair made by any party other than Nood Co Concrete Furniture; or
c) Mishandling, accident, fire, lightning, other hazards whether natural or man-made, or shipment.
d) Improper use or abuse includes, but is not limited to, damage from mishandling of the product, damage from excessive heat or uneven exposure to weather conditions, physical or chemical exposure and damage from improper care and maintenance.
e) Chips or other excessive impact damage in the product.
f) Scratches. Nood Co concrete and sealers are scratch tolerant but not scratch proof. In the case of sinks and basins, scratches caused by natural use are no warranted as concrete is a natural material and will gain character with use.
g) Water damage to sinks or any concrete surfaces due to scratching and natural wear and tear.
h) Thermal Shock. Thermal shock can occur when a hot item, eg. pan or other receptacle or object is left on the countertop for more than a brief period. Trivets or hot pads should always be used. These issues are not considered material defects and are subject to proper care and maintenance by the owner.
i) Damage caused by excessive pressure eg. sitting, standing or applying force to a Nood Co product that would be considered outside normal use.
j) The Nood Co Deep Seal System coating being comprised by scratching, heat, abrasive surfaces, chemicals, accidental chipping, dropping, accidents beyond control, exposure to weather, improper installation, contact with incompatible substances, commercial public use, it becomes void of warranty immediately.
k) Filled with water and left for a period of more than 8 hours
Nood Co. Structural Warranty
Terms & Conditions of Concrete Products:
Material Variations
Nood Co Concrete basins are comprised of a natural material. Each piece has a visual patina, colour variation, pinholing (surface holes) and surface variation. These characteristics have no bearing on the structural integrity of the concrete piece. Nood Co Concrete colours, feel, and aesthetic can look different in photos and it is suggested to purchase sample pieces prior to manufacture to ensure you are comfortable with your product. Each piece is unique and beautiful, and will gain character over time.
Delivery

Shipment: The Seller shall have the right to nominate the method of and the date of delivery. If the Seller is prevented by circumstances beyond its control from shipping or delivering within the stipulated time, such time will be extended for a reasonable period after such circumstances have ceased to operate and Seller should not be liable for any loss or damage incurred by the Buyer including any consequential loss or damage arising from delays in shipping or delivery.
Part Deliveries: Unless agreed to the contrary in writing, the Seller reserves the right to make part deliveries of any order. Failure to make delivery of the total order shall not invalidate the sale. Where delivery is affected by part delivering the goods the Seller shall be entitled to invoice the customer for the goods delivered. The Buyer shall be responsible for and shall indemnify the Seller for loss of or damage to the goods from the time of delivery until paid for in full.
Method: We may deliver the products via a range of delivery methods. Deliveries may require to be signed for. If neither you nor your authorised representative is at the delivery address to take delivery, you will be notified, generally by the delivery company leaving a card with contact details so that you can arrange another delivery time and date. Inability to receive the goods may incur additional freight charges payable by the Buyer.
Title: Title in the products will not pass to you until the delivery of your products and full payment has been processed by us. If your payment is declined for any reason we reserve the right to reclaim the products from your possession, custody or control even if they have been delivered to you or moved from the delivery address. We reserve the right to keep or sell the products. Risk of loss, damage or deterioration to any products will pass to you on delivery. Upon collection or delivery of a Nood product, the customer becomes 100% responsible for the preservation and maintenance of the product. Hand wax is provided with each order plus a maintenance video available here.